Contrary to public statements made by anthropologist, Joe Zias, it is perfectly legal to purchase LMLK handles from IAA-licensed dealers in Israel, & have them exported to any country in the world, for the sake of preserving Israel's cultural treasures, & promoting knowledge of the Holy Bible's rich, reliable history: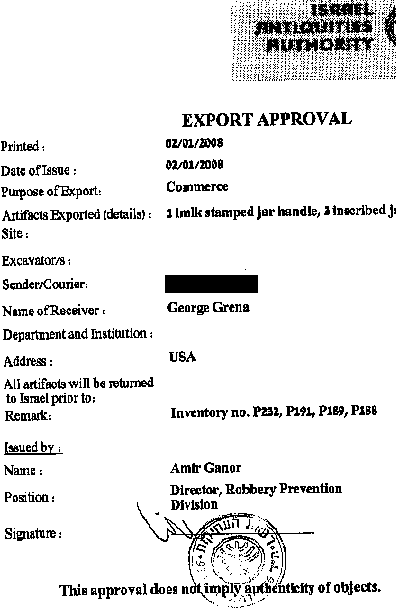 WARNING: The first reported counterfeit LMLK handle (a genuine x2x with forged Personal stamp) appeared on the antiquities market in November, 2003. If you question the authenticity of a LMLK handle in your possession, please report it to the IAA.
---
Robert Deutsch's ARCHAEOLOGICAL CENTER
---
---
---
---
---
---
Click here to jump back to top of page
---
PLEASE NOTE: Each of these dealers is responsible for their own business transactions & they all operate independently from LMLK Dotcom. If you are an antiquities dealer & would like to have a similar page added to market your LMLK artifacts free of charge, send an E-mail to the address shown in the top-left menu of the Research website.
This page was created on July 20, 2003, & last updated on January 15, 2012; visits