LMLK Home
Biblical Accounts
NonBiblical Accounts
Theories
HBRN
MMST
SUKE
ZYF
Generic
x (cannot classify)
2-Top
2-Divided
2-Undivided
4-Cursory
4-Lapidarist
Jars
Personal Seals
Incisions
Paleography
Typologies
Corpus
Stratigraphy
Geography
Displays
Publications
Credits
Updates

Photos are from "Qedem: Monographs of the Institute of Archaeology 37" by Amihai Mazar, distributed by The Israel Exploration Society.

Square J-31, looking north. Floor 737 (Stratum 3) with fragments of LMLK jars in situ covered by flagstone floor 736 (Stratum 2) (1979):



Square J-31, looking east. Human remains (note--the only ones ever found with LMLK jars) & LMLK jar fragments in situ (1981).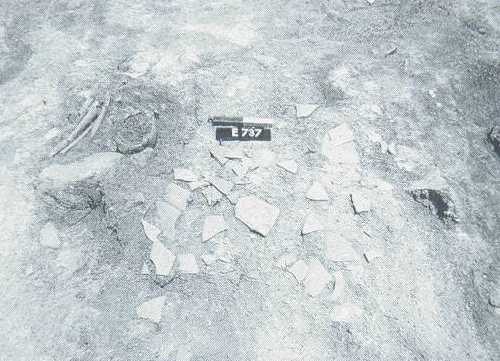 "The Philistines also had invaded the cities of the lowland & of the South of Judah, & had taken . . . Timnah with its villages . . . & they dwelt there. For the LORD brought Judah low because of Ahaz king of Israel, for he had encouraged moral decline in Judah & had been continually unfaithful to the LORD."--2Chronicles 28:18-19