LMLK Home
Biblical Accounts
NonBiblical Accounts
Theories
HBRN
MMST
SUKE
ZYF
Generic
x (cannot classify)
2-Top
2-Divided
2-Undivided
4-Cursory
4-Lapidarist
Jars
Personal Seals
Incisions
Paleography
Typologies
Corpus
Stratigraphy
Geography
Displays
Publications
Credits
Updates

Between 11-14-1868 & 1-25-1869, Charles Warren excavated the first LMLK handles (7 with seal impressions & 1 with the Plus Mark) in Jerusalem near the Kedron Valley about 70 feet below the surface (although it has been reported by others as 24, 50, 52, 63, 80, & 85 feet). Here is the first LMLK publication exactly as it appeared in print (which coincidently used the same font chosen for this website) in "Quarterly Statement #7" (PEQ vol. 2) on 9-30-1870 from The Palestine Exploration Fund:

PHOENICIAN INSCRIPTION ON JAR HANDLES.

SOME two years since there were sent to England, with the other objects found by Captain Warren in the shafts, certain jar handles, all of which were stamped with the same mark--apparently an eagle, rudely designed. They were found at the foot of the wall at the southeast angle. Captain Warren (Letters, p. 88, Quarterly Statement No. 1.) describes a "clay mould" from 8ft. to 10ft. in depth, resting on the soft rock at the bottom. This is cut away, apparently to allow the stones to be placed in their proper positions, Captain Warren drawing therefrom the inference that the clay mould is of older date than the wall. On this mould were found the jar handles referred to.
In preparing the illustrations for his paper in the forthcoming book, Captain Warren wished a woodcut to be made of the marks on these handles, and for that purpose cleaned one of them. On being brushed, certain letters before hidden by dust became clear and legible. These letters are in shape similar to those of the Moabite Stone.
The letters were not quite the same on the different handles, but they have been deciphered by Dr. Birch, of the British Museum, as follows:--
| | | | |
| --- | --- | --- | --- |
| (1.) | LeMeLeK. | Ze PHa. | Son of the king Zepha. |
| (2.) | LeK | SHaT | King Shat. |
| (3.) | LeK | | The following letters being uncertain. |
Photographs have been taken of the handles, which can be seen at the office of the Fund. The originals are now--with the other objects found in the shafts--in the South Kensington Museum.

These are the woodcut illustrations mentioned above as they appeared in "The Recovery of Jerusalem" (1871), "Underground Jerusalem" (1876), "The Survey of Western Palestine" (1884), & PSBA vol. 20 (June 7 1898):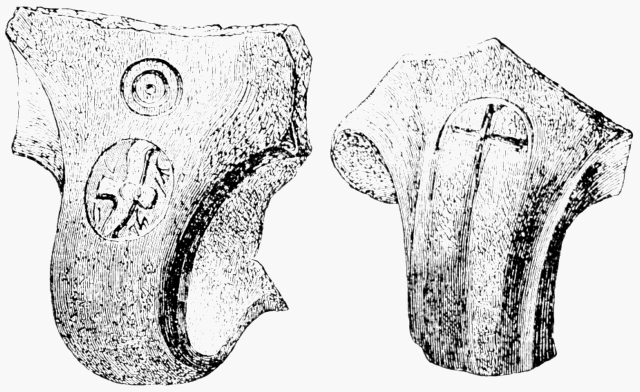 Four of the handles were subsequently described with ID numbers in PEQ vol. 25, January 1893, by Sayce; three of them were referred to again by Sayce in PEQ vol. 32, January 1900, as #42/52, #5/68, & #6 ("double stamped"); two others without ID numbers were described by Chabot in "Repertoire d'Epigraphie Semitique vol. 3"; four (#67, #68, #69, & #70) were illustrated & described in PSBA vol. 20, June 7 1898, by Pilcher. Click here for details about the PEF Collection.

"Verily thou art a God that hidest thyself..."--Isaiah 45:15